The Branding App gives you the ability to completely white label your product and go to market with your own unique brand. Cultivate your own brand by creating a customized user experience complete with a unique domain name, logo, welcome email, and customized access levels.
General Branding
Develop great brand recognition by creating a custom welcome message, uploading your company logo, setting a language, adding a Wiki link, and specify the domain name that your users can use to log in to the portal.
To set up basic Branding
Branding is primarily based on a domain name that you own and control the DNS for. We will use example.com for an example as if that is the base domain name you want to use.
Select "General" within the Branding App.
Upload your company logo (please keep in mind the maximum size is 192px by 62px).
Select a Domain Name. This is the address your customers will put in their browser to access the UI for their account. You can use the DNS Helper to know what to put here. Using our base example domain "example.com" if we put that in the DNS helper in the "Domain name you wish to white-label" you would see in the "Web GUI" record example "portal.example.com". That is what you would put in the "Domain Name" field of the General Branding. For it to work you will also need to update your DNS to have that address CNAME to ui.zswitch.net per the example in DNS Helper. Once you have the DNS for that set and "Domain Name" options saved here you will be able to go that that domain name and see your branded page. Do not include http or https in the "Domain Name" field or any path.
Add your Company Name, Company Website Link, Help/ Wiki Link, Terms and Conditions Link, and select your Language.
Create a Customized Welcome Message for new users. This will appear on the log in page.
Enter a "Realm Suffix". Again, using our example base domain example.com the DNS Helper would show for "General Proxy Fallback" a value of "*.s.example.com". That is the wildcard DNS record that you would want to set up with your DNS service provider. Your customer phones will use that record if you are not able to configure them with a proxy server. The value that you put in the "Realm Suffix" should be the wildcard DNS record minus the leading "*." With the example record "*.s.example.com" the value "s.example.com" is what you would put in the "Realm Suffix" field. Later, when you go create a new account a random realm name will be created for the account with the base of the name with that suffix. Using our example realm suffix of "s.example.com" a resulting new account realm would be something like "as6fd85.s.example.com"
Use DNS Helper to guide you through setting up DNS entries with your DNS hosting service. After entering your base domain name in the "Domain name you wish to white-label" field and click Check, it will display suggested DNS records and will check to see if they have been set up according to those suggestions. (the automated checks for "Outbound Faxing" and "Allow White-Labeled Emails" are currently not correctly verifying so will show an error even when you have it correct)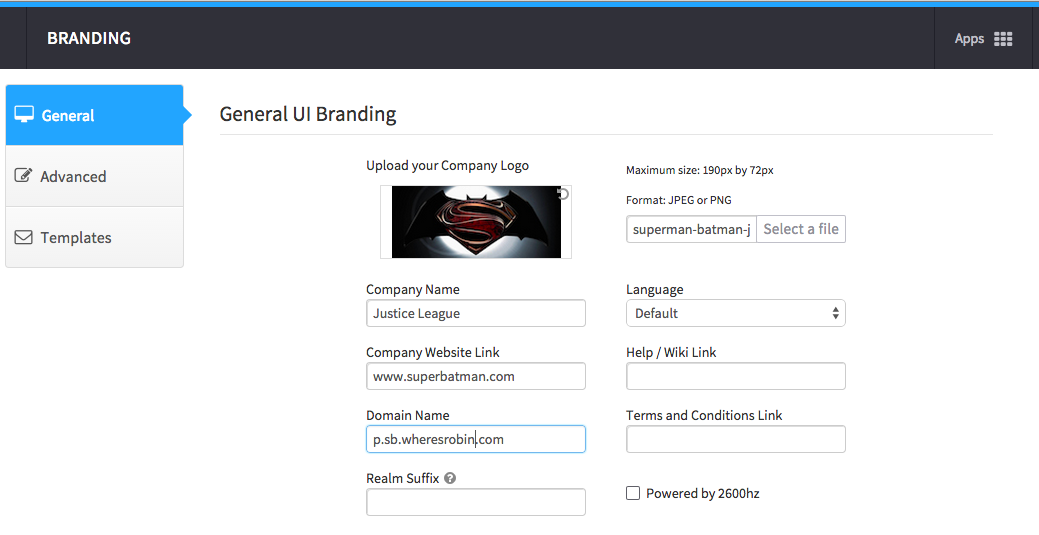 Advanced Branding Options
Advanced Branding tab allows you to decide how much access you would like to give users. The App also gives you the flexibility to decide how your users' carriers will be set up.
Email Notification Templates
Manage the email templates you and your clients receive. Customize your own messages and create a truly unique experience for users. You can also set who you would like to be notified depending on the instance. Values from the Branding General settings do not affect templates.
To Manage an Email Template
Select "Templates" within the Branding App.
You will see a list of templates. The process to update each template is the same, but the use and functionality is very different. So in this instance, we'll be creating a welcome email for a new user. Please click "New Account" under Account Category.
Create a customized email for each template. Decide whether you want to send this email to the Original User, Administrators, or a specific person.
Curate content for the audience in mind. Please make sure that the HTML body and the Plain Text Body are aligned. Enter a Macro to give it a personal touch.
Preview your content by sending yourself a test email.
Emails will automatically be sent out when a new user is created in this instance.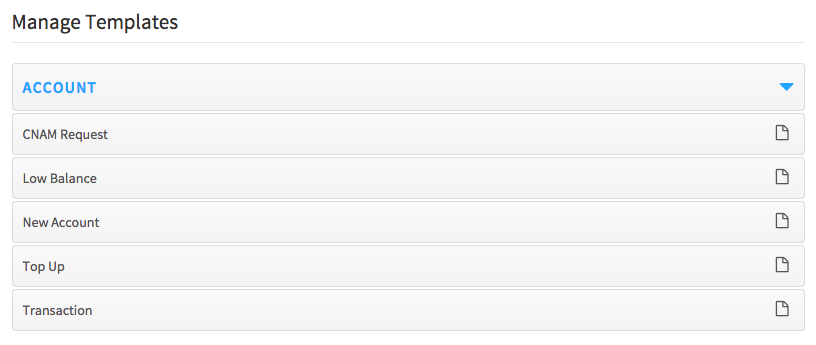 Edited by Emily R (show revisions)