General Information and Features
What is the CallThru.us app?
The CallThru.us  app enables users to access their office PBX system using their Android or iOS devices. Incoming and outgoing calls can be routed through their office system and are included in the PBX system reports. Locally users can access Call histories, contacts, voice mail and recordings without needing to log in from a desktop.
Can we white label CallThru.us?
We have provided the option to add your branding information to the desktop version of CallThru.us.
The listing agreements with Apple and Google however do not let us "white label" the mobile application and branding – each instance would require a new listing and fee. Aside from the license notes we have made minimal reference to 2600hz in the actual app to keep it as agnostic as possible for our resellers.
How does the call routing work?
See the diagram below for an overview of how a call is routed.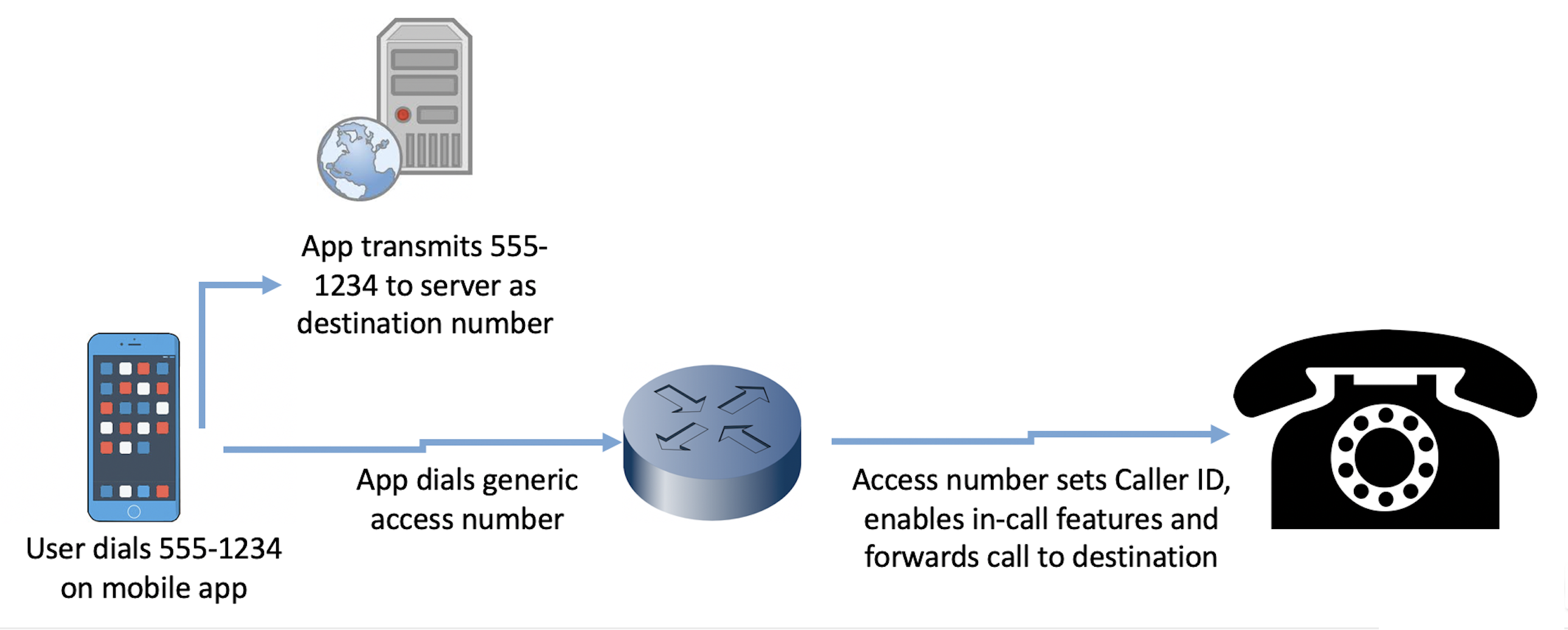 Can I use this app to send and receive text messages?
This is not available in the current release. We are working on this feature and hope to provide it in our next update.
Is there a STEP reference guide for CallThru.us? 
Yes! We are working on several support documents for this application. A STEP guide has been posted for configuring both Android and iOS devices, here. 
Configuring devices from your desktop User Portal app.
I don't have a mobile phone associated with my App Store/Play Store to download from the link in the app. Do I need one?
No, you can simply go directly into the App Store/Play Store directly on your phone to download.
If I say "no" during the original setup to accessing my phone contacts, can I change my mind and allow this later?
Yes, the settings are accessible from your device OS.  
Android devices will prompt you to allow access and change that setting anytime you try to access your address book.
 
iOS devices  If you have an iOS device, you can change the permissions under the phone settings screen.  Look for the CallThru.us app in your list, and toggle Contacts on.
My Call Thru device shows as "unregistered" in my User Portal currently – is this a problem?
No, since your device is not a device on the account, the lack of registration on the system is not a problem. This appearance may be change in future revisions
My Call Thru device does not show as a device in SmartPBX – Will my app still work?
The device is listed under devices in the SmartPBX portal, however there is not yet an icon for it.   Look for a blank listing under the devices column.   When you click on that you will see it is tagged as a callthru.us device.   
Making and receiving calls with your device
When I dial a phone # the app shows a different number than I am dialing. What is this?
When you make a call, CallThru.us routes your call through a series of access numbers managed by your PBX. It then forwards to the number you called.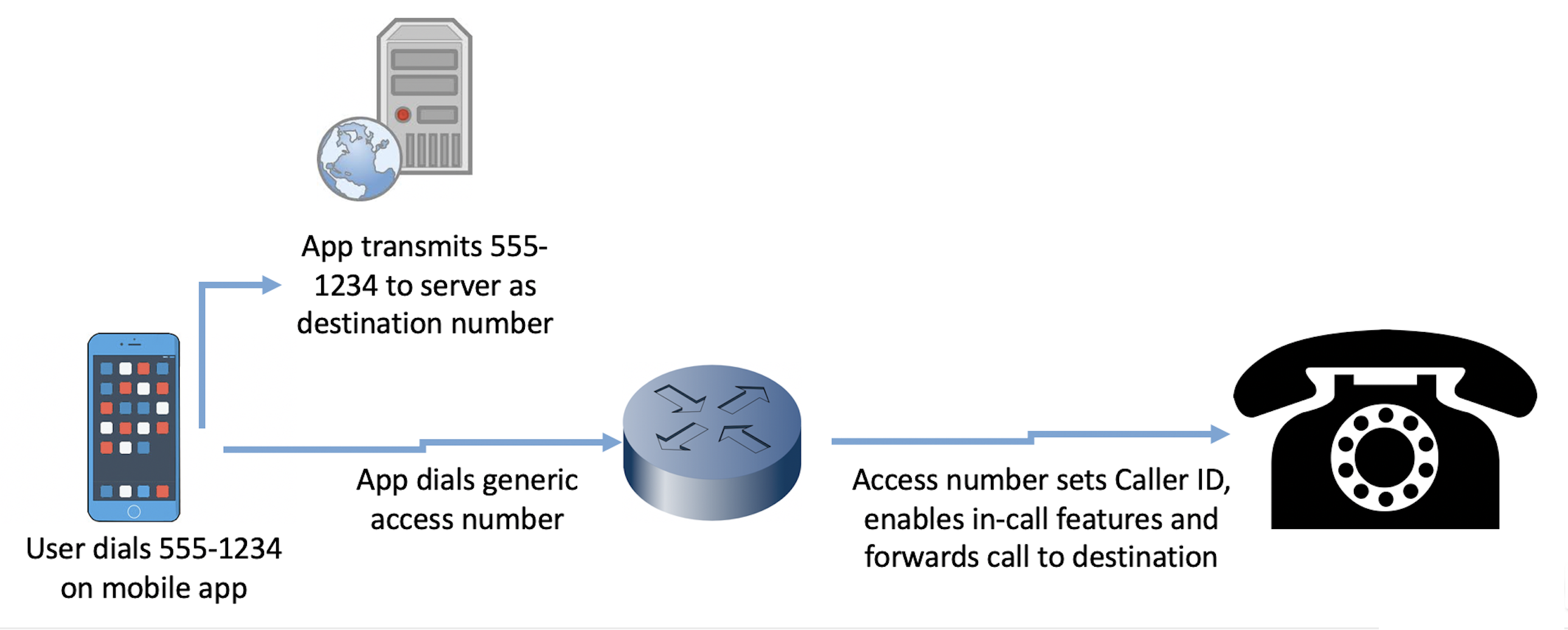 So the number you see on your phone is the access number.
Your call history will display the actual phone number you called.

The recipient of your call will see a caller ID based on your settings in your PBX system

If there is no setting then it will display as Anonymous

If you have assigned a caller ID to your originating phone number that will display
I can make outgoing calls but for some reason I'm not seeing incoming calls
To set up incoming call routing, add a device in the Callthru.us app that is assigned to you as a user. It will ring all your devices including forwarding the call to your cell. If you are not receiving calls, check the following settings in your SmartPBX account
Make sure the setting is assigned to ring the user, not the device.

Check the Find Me Follow Me settings for the device.  It should show the ringer unchecked.  

View the STEP guides for more information and troubleshooting for this.
When I call a landline I get a message that the "callee is not accepting calls from numbers with Caller ID blocked"
This type of message has become more common now with the SPAM filters phone carriers have implemented for land lines due to new laws protecting consumers.   If you receive this message, it's likely your user Caller-ID privacy setting in SmartPBX includes a "HIDE" selection, either "Hide Number Only, Name Only, or Name and Number".   To ensure your calls will be accepted by landlines, go to your SmartPBX User settings and set the privacy option to either "Default" or "Hide Nothing."   See the screen shot below.  

Settings features on your device
What settings can I control with CallThru.us from my device?
This version of CallThru.us app supports the following settings:
Enable Call Forwarding
This allows you to identify a different phone number to forward calls to.  Additionally, you can request the originating caller ID is maintained. 

Send Voicemail to email
Here you can choose to send your voicemail notification to an email address.  NOTE: Since the "from" field will show a cryptic string, your email filter may forward it automatically to Junk.  If you don't receive any notices, check your Junk mailbox.

Do Not Disturb
If turned on, the device listed will not ring.  Note all the devices listed under your user name in SmartPBX will be listed and allow being turned off.

Reset Application
Use this if you want to reset the application.  It will delete all your data related to the app, including the associated phone number.   If you are having trouble receiving incoming calls, it's possible the phone number you entered was not paired correctly with your phone.  As noted below, this is a last effort to resolve this.
Your CallThru.us Faxbox
I am not receiving fax notices on my phone
In order to receive faxes and notifications on your phone, you must have a fax box assigned to your user setting in SmartPBX.  Ask your administrator to set this up and verify the fax number you wish to be a receiver for.  
You can check the following settings on your phone to confirm  your phone is configured correctly:
On the faxes page, review the phone number listed under your Faxbox Heading.   

Under settings, make sure the toggle for Do Not Disturb is OFF for your fax listing

Check in the User Portal Faxes (on your desktop, if you don't have access ask your admin) to see if the faxes have registered there.

Check your email inbox (and junk mailbox).  If your settings enable the "copy to email" option, you should get a copy there.  This will confirm if the system is receiving the faxes.
How can I send faxes from my phone?
Currently there is no option to send a fax from your phone.   The "sent" tab on your phone displays information and images of faxes you may have sent from your office desktop in SmartPBX.
How do I save an incoming fax on my phone?
Currently there is no option to "Save Fax" on your phone.  We anticipate this will be one of our pending updates.  In the interim, some users are taking screen shots of the fax and saving that to their phone documents.
If I delete a fax from my phone is it deleted also from Smart PBX and vice-versa?
Yes.
Edited by Emily R (show revisions)